Dekar Urumsah, Drs., S.Si., M.Com(IS)., Ph.D.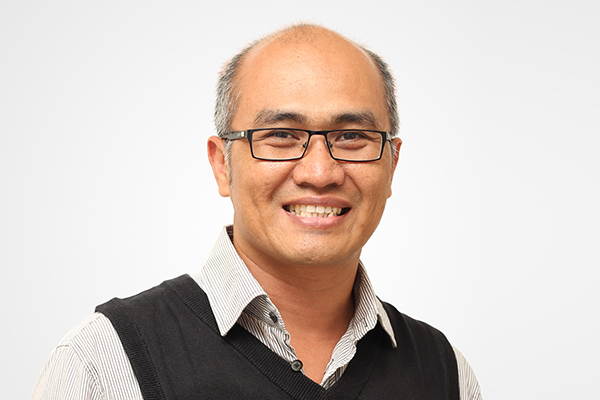 BIOGRAPHY (Biography)
Dekar Urumsah menyelesaikan pendidikan S1 di Universitas Islam Indonesia pada tahun 1992 dan ia juga menyelesaikan S1 di Universitas Gadjah Mada pada tahun 1997. Iamelanjutkan pendidikan S2 Master of Commerce pada bidang Information Systems di Curtin Business School, Curtin University, Australia pada tahun 2004. Pada tahun 2012 Dekar juga menyelesaikan pendidikan doktornya di Curtin University. Saat ini Dekar Urumsah menjabat sebagai Ketua Program Studi Akuntansi UII.
PENDIDIKAN (Education)
Drs (Sarjana Ekonomi Bidang Akuntansi), Universitas Islam Indonesia.
SSi (Sarjana Sains Bidang Elektronika & Instrumentasi, Universitas Gadjah Mada.
MCom(IS) (Master of Commerce in Information Systems), Curtin University, Australia.
PhD (Doctor of Philosophy in Accounting), Curtin University, Australia.
MINAT PENELITIAN (Research Interests)
Sistem Informasi
MATA KULIAH (Teaching)
Sistem Informasi Manajemen
Sistem Pendukung Keputusan
Journal Articles
Urumsah, D. 2015. Factors influencing consumers to use E-services in Indonesian airline companies. Advances in Business Marketing and Purchasing, Vol. 23B, pp. 5-254

Wicaksono, AP, Urumsah, D, Nugroho, G 2017. Kinerja individu sebagai dampak penerimaan teknologi: Pendekatan model UTAUT, Jurnal Ilmiah Akuntansi, Vol. 2 (1).

Wicaksono, AP & Urumsah, D, 2017. Factors influencing employees to commit fraud in workplace: Empirical study in Indonesian hospitals, Asia Pacific Fraud Journal, Vol. 1(1), pp. 1-18
Conference Papers & Proceedings

Urumsah, D, Quaddus, M & Galbrieth, J. 2011. An investigation into the factors influencing consumers to use E-services of indonesian airlines: The role of motivation. Presented in the 19th European Conference on Information Systems – ICT and Sustainable Service Development (ECIS) Helsinki, Finland on 9 – 11 June 2011

Urumsah, D, Quaddus, M & Galbrieth, J. 2010. Factors influencing the adoption of e-services in Indonesian airlines: A field study approach. Knowledge Management and Innovation: A Business Competitive Edge Perspective – Proceedings of the 15th International Business Information Management Association Conference (IBIMA) Vol. 1, pp. 497-510